Madhya Pradesh Professional Exam Board is conducting Pre Agriculture Test (PAT) computer based online test in the month of 27th & 28th April 2019. It offers admission to the candidates into B.Tech. B.Sc. (Forestry), B.Sc. (Agriculture ), B.Sc. (Horticulture) and various other courses for the academic year 2019-2020. Thus, the candidates who have applied for the Madhya Pradesh PAT Exam 2019 can download MP PAT Syllabus to start their preparation for the PAT 2019 exam. And also check the MP Vyapam PAT Exam Pattern from here to know the difficulty level of exam. So those who have applied they may download MP PAT Admit Card 2019 from its official website. Here we are going to share complete details and useful links for you to get Madhya Pradesh PAT Hall Ticket 2019 from here easily. Contenders can read this page for more updates.
MP PAT Entrance Syllabus 2019 MPPEB Admit Card, Exam Pattern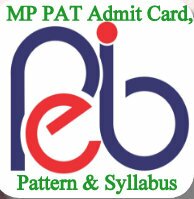 MP PAT 2019 exam papers will be of objective type with multiple choice questions. The MP PAT 2019 Entrance Exam is going to held in April 2019 at various prearranged exam centers in MP State. Candidates who want to crack the exam must have knowledge of Madhya Pradesh PAT Exam 2019 Syllabus and exam pattern. Applicants by login to the main portal can download MPPEB PAT Exam Pattern & Syllabus in pdf. Refer previous papers, model papers, practice papers to crack the exam with good score. Below given the more details about MP Pre Agriculture Test Syllabus, Admit Card, Pattern, Result etc.
Important Dates of MP PAT 2019:-
| | |
| --- | --- |
| Events | Dates (Tentative) |
| Online Application Form Availability | March 2019 |
| Last Date to fill the Application Form | April 2019 |
| Admit Card Availability Date | 10 days before the exam date |
| Date of Pre Agriculture Test | 27th & 28th April  2019 |
| The announcement of Result | June 2019 |
Details about MPPEB Pre Agriculture Exam Pattern:-
The exam paper will have objective type questions with multiple choice.
Questions paper will have 200 questions for 200 marks.
Each question carries one mark.
The time duration given is 3 hour.

Questions are from  Physics, Agriculture, Chemistry, Biology, and Mathematics.

There is no procedure for negative marking.

The exam pattern will be like this.
Courses
Name of the Subject
Number of Questions

B.Sc (Horticulture)/ B. Tech (Agriculture Engineering)/ B.Sc (Agriculture)/ B.Sc (Forestry)

Physics

50

Chemistry

50

Mathematics

100

Total 
200

B.Sc (Agriculture)/ B.Sc (Forestry)/ B.Sc (Horticulture)

Agriculture -1

100

Agriculture -2+3

100

Total 
200

B.Sc (Horticulture)/ B.Sc (Forestry)/ B.Sc (Agriculture)

Physics

50

Chemistry

50

Biology

100

Total 
200

B.Sc (Forestry)/ B.Sc (Agriculture)/ B.Sc (Horticulture)

Physics

50

Chemistry

50

Agriculture

100

Total 
200
Examination- MP PAT Syllabus 2019:-
Mathematics:
Algebra.

Co-Ordinate Geometry Of Two and Three Dimensions.

Differential Calculus and Equations.

Integral Calculus.

Numerical Methods.

Linear Programming.

Statistics.

Trigonometry.

Vector Algebra.
Science: 
Includes Physics and Chemistry.
Physics:
Acceleration due to gravity and its variation.

Absorption and emission spectra.

Conservation of momentum and energy.

Electromagnetic induction induced emf.

Electric power.

Growth and decay of current in L-R circuit.

Force on a moving charge in a magnetic field (Lorentz force).

kinetic energy and temperature.

Moment of inertia.

Measurement of voltages as currents.

Ohm's law, Kirchhoff's laws.

Periodic motion.

Simple harmonic motion.

Refraction, Reflection.

S.I. Units, Motion in two dimensions Cases of uniform velocity and uniform.

Unit and dimensions

Static and kinetic friction.

Wave nature of light.
General And Physical Chemistry:
Chemical Equilibrium, Bond, Kinetic.

Electrochemistry.

Nuclear chemistry Radioactive radiations.

Solutions.

Solid State.

The structure of Atom.

Thermodynamics and Thermochemistry.
Inorganic Chemistry:
Chemical periodicity.

Chemical analysis.

Comparative study of elements.

Coordination compounds.

Transition metals.

Principles of metallurgical operations.
Organic Chemistry:
Biomolecules.

Calculation of empirical and molecular formula of organic compounds, Nomenclature of organic compounds, common functional groups isomerism Structure and shapes of alkanes, alkanes, and benzene.

Nomenclature, Physical-chemical properties, correlation of physical properties with structural properties.

Nomenclature, methods of preparation, Chemical properties correlations of physical properties with structures.

Polymers.

Preparation properties and uses of alkynes, benzene-petroleum, alkynes, cracking octane number, gasoline additives.
Biology: 
Includes Botany & Zoology
BOTANY:
Ecosystem

Structural organization of the cell

Five Kingdom classification Binomial Nomenclature

Structure and functions of cell organelles

Tissue and tissue systems

Difference between prokaryote and Eukaryotes

Elementary knowledge of microsporogenesis megasporogenesis.

Enzymes and growth hormones with reference to their classification

Role of plants in human welfare
Zoology:
Developmental biology and genetics.

Multicellularity – structure, and function of animal life.

Taxonomy evolution in economic zoology.
Madhya Pradesh PAT Hall Ticket / Admit Card 2019 Details:-
MP Vyapam after successful completion of registration process publishes the MP Vyapam PAT Admit Cards to the eligible candidates on its main portal. Applicants who applied for the exam can download the Madhya Pradesh PAT Exam 2019 Admit Card from the official website as soon MP Vyapam uploads it.
MPPEB will issue the MP Vyapam PAT Hall Tickets ten days before the exam date. Candidates to download the Madhya Pradesh Pre Agriculture Test Entry Card have to login main portal and provide their unique registration number and other details to get their MP PAT 2019 Admit card.
Steps to Get MP Vyapam PAT Hall Ticket 2019:-
Log on to the official website of the MP Vyapam.

Search for the link download MP Vyapam Admit Card 2019 link.

As you find the link, open it.

Enter your registration details like name, registration number etc

Now to get the admit card press on submit button.

On the computer screen, applicants can see admit card has appeared.

Download and take the print of it for future and exam use.
Download MP PAT Exam Hall Ticket 2019 Here
Details Regarding the MP Vyapam PAT Result 2019:-
The Madhya Pradesh PAT Exam 2019 Result will be declared by MP Vyapam Board on its main portal. After successful completion of exam and evaluation of answer papers board will publish the MP PAT Result 2019. Candidates can able to check their Result of MP PAT Exam 2019 at the official website after the MP Vyapam Pre Agriculture Test Result has been released. After getting the result, aspirants who are qualified for the PAT exam need to attend the MP PAT Counseling 2019. For more updates and regular updates stay tuned to the main portal on a regular basis.
Overview of Madhya Pradesh PAT Exam 2019:-
Organization Name: Madhya Pradesh Professional Exam Board (MP VYAPAM).
Examination Name : Pre-Agriculture Test (PAT) 2019.
Admission into B.Sc (Agriculture), B.Tech (Agriculture Engineering), B.Sc (Forestry) & B.Sc (Horticulture) courses.
MP  PAT Exam Date: May 2019.
Category: MP  PAT Admit Card.
Admit Card Release date: 10 days before the exam date.
Result Publish Date: Soon Releases.
Official Website: www.peb.mp.gov.in
Contestants are requested to download their Admit Card for MP PAT Exam 2019 before the exam date by official website. No, MPPEB PAT Exam 2019 Call Letter will be delivered to the home of any candidate. We hope this information is enough and useful for you. For more details about the Madhya Pradesh Pre Agriculture Test, visits our homepage regularly.
t